Ellipsis staff members work around the clock — literally — providing care and supervision for Iowa youth and families. Whether a youth care staff member works the day or evening shift, their presence is everything for kids and families who need stability in their lives.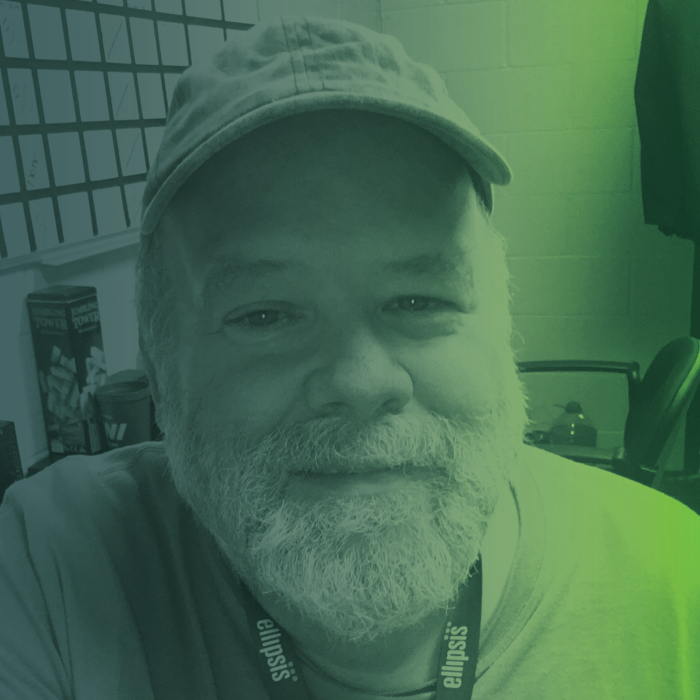 Photo: Bill Brunia
Youth care staff members are essential to the healing of the individuals who seek help through Ellipsis. Bill Brunia is a youth care staff member and behavioral health intervention services (BHIS) provider, working in the Neurodevelopmental and Comorbid Conditions unit. He has worked for Ellipsis for five years and in that time, has seen how effective the programming is for youth and families who need to change their life trajectory.
"I knew that I was in the right place, doing exactly what I should be doing, when I started seeing the kids use the skills we were teaching them," Brunia said. "Not all youth have buy-in to our programs, but I recall one who had been at multiple placements throughout his short life with a suitcase full of aggressive behaviors. After some time, he bought into the skills we were teaching in BHIS group and was able to improve his behavior. The investment of time and effort started to pay off. The coping skills he learned created synergies that built on each other. His confidence grew and he left here with new skills to help him self-regulate when he was upset."
Ellipsis is currently hiring for a variety of positions, all working with Iowa youth and families. The most-needed positions are Youth Care workers like Bill for daytime and overnight shifts. In these roles, individuals will work with other dedicated professionals providing services that allow our youth and families the opportunity to find their path to independence. Overnight care workers monitor youth overnight at the shelter or residential treatment program.
"The skills we teach the kids here have also helped me in my own life," said Brunia. "For example, we teach the kids the importance of being aware of our surroundings in a world where it is so easy to get caught up in, and overwhelmed by, our thoughts. We teach breathing exercises with our AIM (Accept, Identify, Move) curriculum that I find very helpful and use myself after a stressful day. When kids start using the skills we teach and move from just talking about them to actually putting them into practice, it makes all the difficult times worthwhile."  
"The job does not come without its challenges, some of which arise from needing a full roster of caring and dedicated employees to do this important work. In an age of staff shortages, it's the mission and purpose of Ellipsis that drives me to do more."

Bill Brunia
"I think back to the mentors who helped me, and I want to do the same for others," Brunia said. "Unfortunately, a youth's home is not always the safest or best place for them to get the help they need. There is need for places like Ellipsis where youth and families can get more focused care when home is not an option."  
What does it take to work with youth?
Regina Hughes of Ellipsis Human Resources said individuals should be energetic, highly motivated, willing to learn, and have the desire to make a difference. During their shifts, employees have the opportunity to connect with youth, providing them with a trusted, reliable adult in their lives.  
If you or someone you know is ready to make a difference and refuse to give up in the face of adversity, Ellipsis is ready to meet you! Check out their Careers page or email Regina Hughes to connect your skills with the needs of Iowa youth and families.