"The best way to find yourself is to lose yourself in the service of others." – Gandhi     
Volunteers obviously do not get paid because their help is priceless. Ellipsis understands that the donation of time and effort is one of the most impactful ways our community supports our kids and families.
While April, as National Volunteer Month, is a spectacular time to lend a hand, here are some ways you can get involved with Ellipsis throughout the year.
Make an impact on kids and families through Ellipsis
Through our legacy with Youth Homes of Mid-America and Youth Emergency Services & Shelter, we're proud to say that we have volunteers who have lent a helping hand for decades. Since the two organizations merged to form Ellipsis in 2021, we've evaluated our volunteer programs to ensure the highest impact for our kids and families and for our volunteers.
"We always say that you're not just helping Ellipsis; you're helping kids and families in our community through Ellipsis."

Zach Rus, Ellipsis engagement director
One of the changes we've made is limiting the amount of direct contact our volunteers have with our youth. While Ellipsis has always thoroughly vetted the volunteers who come in direct contact with our youth and greatly appreciate volunteers' help, volunteers won't directly interact with our youth moving forward.
"Our kids may have traumatic pasts. Bringing people into their lives quickly and randomly — even if well-intentioned — does more harm than good. That's the role of our staff and, potentially in the future, of long-term program volunteers and mentors."

Chris Koepplin, Ellipsis CEO
But that doesn't mean Ellipsis doesn't value or need the help of our incredible community members. We look to leverage volunteer efforts to boost programs and fill existing needs. For example, 110 volunteers helped move items out of a facility that we're renovating, allowing us to save thousands in funds that we use to better serve youth.
We've also had numerous volunteers offer their unique skills: One person offered the use of a semitrailer to move donated furniture out of a hotel, and others call upon cosmetology skills to give our youth haircuts.  
"No matter the volunteer opportunity — individual or group — we always think about how we can have the highest impact for both those we serve and those who volunteer," Zach said. "We want volunteers to leave feeling like they had a worthwhile experience and can contribute their unique offerings."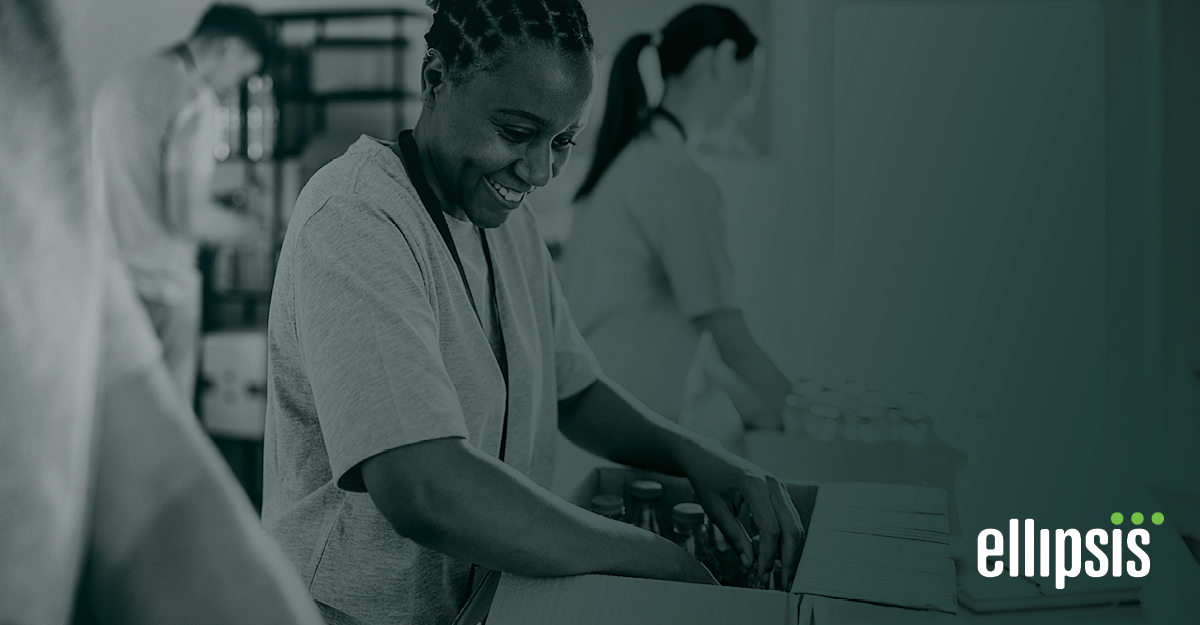 How can I volunteer at Ellipsis?
Ellipsis has many volunteer opportunities for individuals, small groups or even entire companies, and we're lucky to have regular supporters and groups who have long-standing commitments to help.
If you'd like to be informed of upcoming volunteer events and volunteering needs on our campus, complete the volunteer form on our website. We'll match your skillset with available opportunities.
"There are so many ways to volunteer whether you want to do so in-person or from your couch," Zach said. "You could volunteer from your couch by sharing our stories on social media or doing work as part of an event committee. You could volunteer with a group to help pick up the grounds so our youth — who also help to maintain their living areas — know that others take pride and care about the facilities they live and stay in."
It's also helpful for individual and group volunteers to email us their availability monthly or even throughout the entire year so we can coordinate times that work best for you. 
What volunteer opportunities does Ellipsis have?
Please don't hesitate to reach out any time of year if you think you could offer help! We also put out an ask for volunteers when we have a special project or initiative, so keep an eye on our website and social media channels.
Spring and summer:
Help clean our grounds, plant greenery and maintain landscaping.
Revamp our sand volleyball court.
Run a school supply drive.
Fall and winter:
Pick up leaves on campus and ready the grounds for cooler weather.
Holiday-related event help.
Shopping for and wrapping Christmas gifts.
Year-long opportunities:
Sorting through donations.
Cleaning out company vehicles.