As Iowa's "no wrong door" care provider, Ellipsis staff welcomes and works with people however they come to the agency. The same philosophy applies to Ellipsis' philanthropic efforts.
Zach Rus, Chief Philanthropy Officer for Ellipsis, recognizes the value of each and every donation – whether it's time volunteered, dollars given, or goods/services provided.
"Just like our programs and services, our approach to philanthropy is inclusive. There is no ranking; people see their impact in different ways, whether that be through incremental giving, a large annual donation, volunteering, or helping out at an event. Each gift is truly that – a gift."

Zach Rus
As Ellipsis wrapped up its end-of-year campaign, the numbers spoke for themselves. A total of 1,500 donors made 4,715 gifts, which included monetary donations and in-kind products such as blankets, suitcases and clothing. Additionally, several businesses, community organizations and individuals gave dollars as part of the business merger between Youth Homes of Mid-America and Youth Emergency Shelter & Services in summer 2021.
"Anyone who chooses to donate to Ellipsis has a lot of say in what that looks like," Rus said. "For example, they could lead an effort to gather items for our 'Next Step Kits' – laundry baskets filled with hygiene items, a pillow and blanket and some daily essentials for our youth who are moving to the Supervised Apartment Living program. Or they could give their time by volunteering at an event – that's a sizeable investment! Unrestricted monetary donations allow our organization the greatest flexibility to pivot where and when needs arise."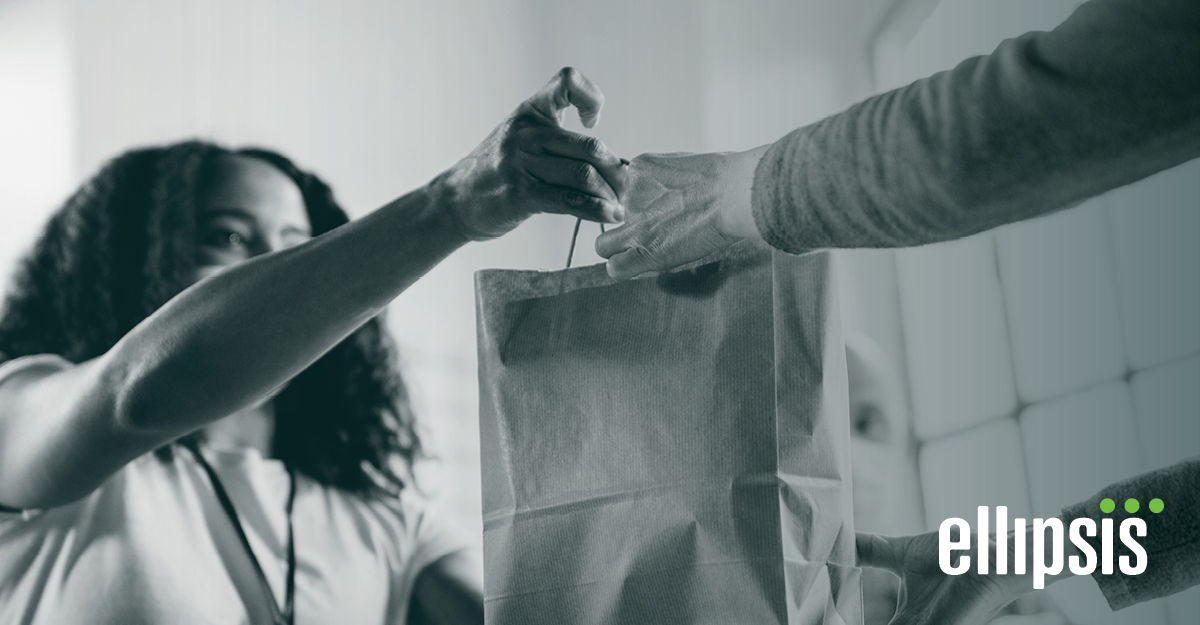 Rus went on to say that one of the most powerful ways people learn about needs at Ellipsis is through word of mouth and hearing stories of impact. Rus and Ellipsis CEO Chris Koepplin visit local civic organizations, such as Rotary Clubs and Kiwanis Clubs, to share updates and information on how communities can help the thousands of people who need Ellipsis services each year.
"We see so much need in our day-to-day work. When we can share the stories of how each and every dollar, item, or hour donated impacts kids and families, it's a dynamic thing," Rus said. "One aspect we emphasize is that when people give, it goes directly to central Iowa kids and families, truly mission-driven fundraising. This isn't a big, multi-state organization. It's local — it's our own community members who need help."
You can also support our work by engaging with us on social media. Liking, commenting on and sharing our posts helps us reach more people. Find and follow Ellipsis on these social media channels:
Rus wrapped up his reflections on the end-of-year campaign by taking it back to the inclusive nature of their donation program.
"It really comes back to Go, Give, Help," said Rus. "Go to an event and see what it's all about. Give a monetary or in-kind gift that fits your budget and lifestyle. Help us with work on our campuses, at an event, or by sharing our message on social media. We truly need and appreciate every gift that comes to us."
If you're ready to support the life-changing work happening at Ellipsis, find opportunities to GO, GIVE, and HELP.