March 2, 2022, marked World Teen Mental Wellness Day, which seeks to normalize conversations and end stigmas associated with adolescents and their mental health. In recent years, there has been a shift in proactively recognizing — and seeking help for — mental health and wellness in adolescents.  
"We've seen a trend of younger children coming to us needing mental health therapy, which could be from a traumatic situation, but also from things such as anxiety, heightened emotions, stress, depression, bullying — the list goes on," said Nikki Thomson, chief clinical officer. "When we can get support in place at an earlier age, it greatly increases the opportunity for the child — and their family — to work through these struggles and lead a happier life. This may look like continued mental health treatment for years or for a short time period. The key is addressing it early on and getting those resources in place."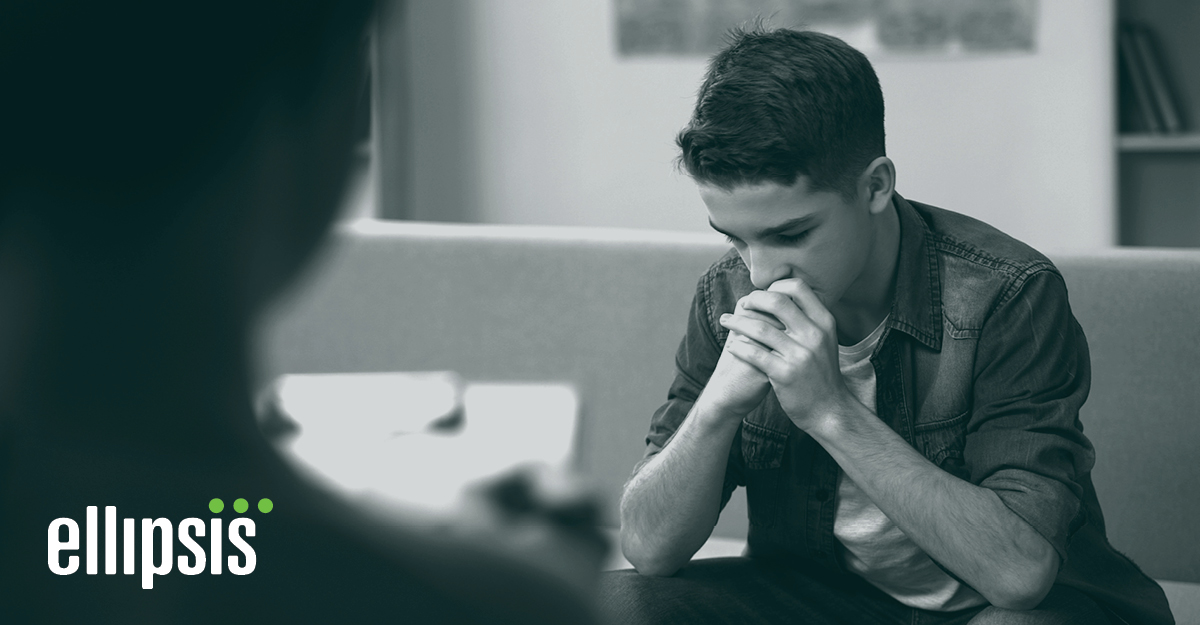 From the moment a child or family member comes to Ellipsis, their mental health needs are treated with the same attention and care as a broken bone would be treated by a medical doctor. Our staff members are experts in listening, problem-solving and helping teens and families to find solutions that improve their mental health and well-being.
"One of the things we know very well is that there is no one-size-fits-all solution when it comes to mental health and what progress may look like."
"One of the things we know very well is that there is no one-size-fits-all solution when it comes to mental health and what progress may look like," said Thomson. "Our trained therapists and counselors, and even more importantly, our direct care staff, are so good at seeing opportunities and strengths within a child or family member that they can use to start building back their mental health. And, because we are in touch with our kids and families so frequently, we can adjust as needed to continue their progress."
The ways and means by which Ellipsis provides therapy has broadened over the years. Today, under the guidance of licensed and trained clinicians, we offer a variety of therapy services, so we're able to tailor treatment plans to each person's unique needs and where they are in their journey to better health.
Individual, group, and/or family therapy: Here, treatment assists individuals with addressing emotions, behaviors and functioning issues in their daily lives, assisting them on their paths to independence.
Music and art therapy: When talking about a problem is too difficult or doesn't seem to help, music or art therapy can support mental health and emotional well-being and assist in building avenues for confident self-expression. Music and art therapies are often successful in building relationships between kids and our therapists and counselors.
While Ellipsis staff have been dialed in to the growing need of teen mental health for years, more recent attention to the topic has been brought to the forefront by the COVID-19 pandemic. In December 2021, U.S. Surgeon General Dr. Vivek Murthy issued a new Surgeon General's Advisory on Protecting Youth Mental Health to highlight the urgent need to address the mental health crisis of our nation's youth. In short, the Advisory outlines "the pandemic's unprecedented impacts on the mental health of America's youth and families, as well as the mental health challenges that existed long before the pandemic."
Among the key pieces of information shared in the Advisory are recent statistics that point to why recognizing, addressing and encouraging youth to seek mental health wellness are critical:
Pre-COVID, mental health challenges were the leading cause of disability and poor life outcomes in young people, with up to 1 in 5 children ages 3 to 17 in the U.S. having a mental, emotional, developmental or behavioral disorder.
From 2009 to 2019, the share of high school students who reported persistent feelings of sadness or hopelessness increased by 40%, to more than 1 in 3 students.
Suicidal behaviors among high school students also increased during the decade preceding COVID, with 19% seriously considering attempting suicide, a 36% increase from 2009 to 2019, and about 16% having made a suicide plan in the prior year, a 44% increase from 2009 to 2019.
What can we do?
So what can families, friends, and trusted adults do when they see an adolescent struggling with their mental health? In her experience, Thomson said the following things can dramatically help teens address mental health concerns and start a road to treatment.
Have open and honest conversations about mental health, the prevalence of people who seek mental health therapy and what therapy — or help — can look like.
Let your teen know you support them in their journey of better mental health and show them providers they can reach out to.
Encourage teens to recognize what might not feel "right" and talk to them about ways to share those feelings, such as a conversation, journaling, etc.
Keep communication open with your teen's school counselor and teachers. The larger the support net, the higher the likelihood small changes in behavior will be noticed and addressed.
Finally, know that Ellipsis is here, 24/7/365 for anyone who calls or comes to our doors. Our Help Line (515-243-3459) is operated 24 hours a day and immediately puts a caller on the line with one of our helpful staff members. From there, we can work together to find the best solution.