As Iowa's "no wrong door" provider for youth and families, Ellipsis is decking the halls in preparation for the upcoming holiday season.
While the goal is for kids to be with family, relatives, or close friends on the holidays, there are times when that's not feasible. In those instances, Ellipsis staff go above and beyond to ensure each child feels special when they spend Christmas with us.
Oftentimes, that means Ellipsis staff step in as caretakers, creating a sense of togetherness and family with the youth who stay on-site during the holidays and winter break period.
"The staff go all out. They get everything decorated, ask the kids to make their gift lists, bring in fun movies and snacks and provide them with more one-on-one time, since there are fewer kids staying here over break. Our staff does a great job making the environment feel as much like home as possible."

Nikki Thomson, chief clinical officer.
Thomson, along with Chief Philanthropy Officer Zach Rus, said a big part of making Ellipsis a home for the holidays is the outpouring of donations and help from the local community.
"Ellipsis is always in need of volunteers and donations, but it's especially apparent during the holidays," said Rus. "We're so grateful for our friends and partners who spend their personal time rallying support from their colleagues and friends to help make the holidays better for the kids and families we serve. The gift of time, such as organizing a gift drive or adopting a family in need is so appreciated. Alternatively, monetary donations, purchases from our Amazon Wishlist or donating nonperishable food is incredibly helpful. We couldn't do it without the compassion of others."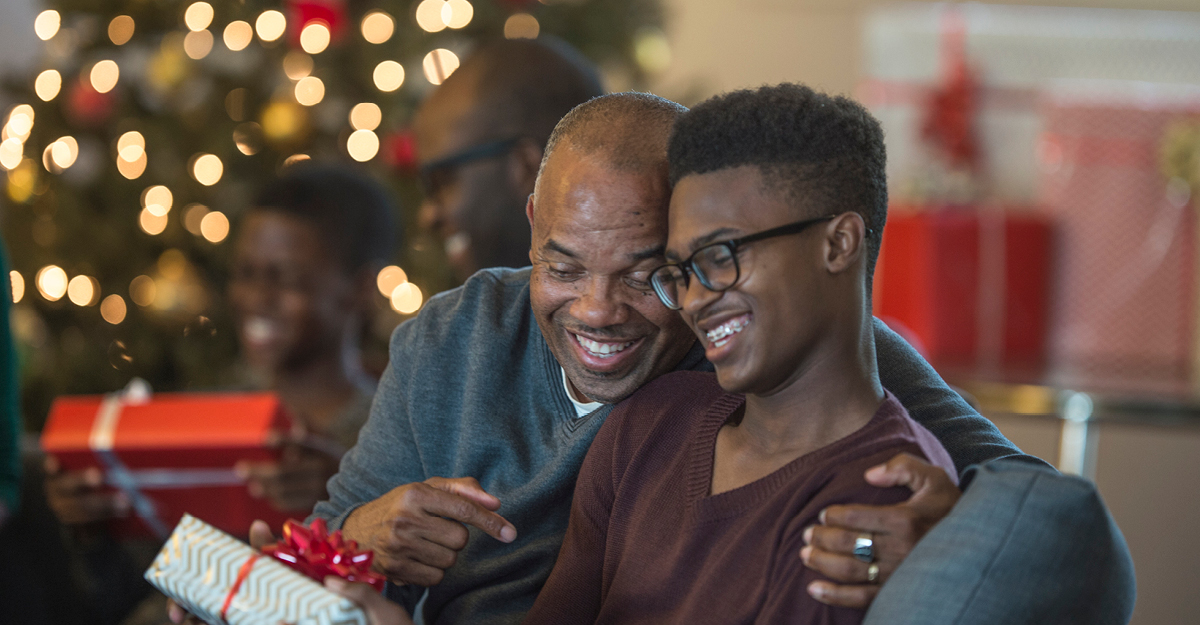 As an extension of their services, Ellipsis staff also recognize that families who are able to be together for the holidays may need assistance providing food or gifts for gatherings. That's why, when youth are able to go home for the holidays, they may also bring home donated meals or small gifts.
"We do everything in our power to make sure kids and families get as good of a Christmas as possible," said Thomson. "Sometimes, that means providing a little extra support. In turn, there is less stress on the family, and it creates a better environment for everyone."
Thomson said as a growing number of kids stay on-site over the holidays, Ellipsis staff have found fun and safe ways to celebrate together. 
"Each child has their own little section in one of our gathering rooms, with a big, decorated Christmas tree," said Thomson. "We try to ensure everyone has a couple gifts to open, even if it's money or a gift card. After they open gifts, we take them out to lunch, that kind of thing. On non-holidays, we'll take them to the mall or store to use their gift cards or money — that's a very typical 'teen' experience."
While Ellipsis relies heavily on donations to make the holidays memorable, their Board of Directors also pitches in to make sure kids and staff are able to take advantage of fun activities on winter break days. The board's personal contributions allow the kids to go to the movies – complete with popcorn and soda – at least once during the break. It's a thoughtful gesture that makes a big impact.
Thomson and Rus gave a lot of credit to the Ellipsis staff who often ask to work on these holidays to be with the kids and families. Their presence can provide the right balance of structure and friendship to help youth make the most of the holidays. Thomson said for some youth, the Ellipsis staff may be the only family they have at that time in their lives.    
Ellipsis welcomes donations throughout the year. Your tax-deductible gift goes directly to support central Iowa kids and families. Learn more about donating time, money or in-kind donations here.
At the end of the day, be it a holiday or otherwise, Ellipsis' doors are open to anyone who needs our services. Our Help Line (515.243.3459) is staffed 24/7 and connects those in need with a real person. If you or someone you know is in need of Ellipsis' services, contact us here.